Bollywood's malodious magic
We are a nation of music lovers and in music lies our national unity. From Kashmir to Kanyakumari and Maharashtra to Meghalaya, we can drown all our differences of cast and creed, communal and cultural, political and provincial, and live together as one people, playing or listening to popular music. Whether it was the verse of Sufis and Saints or the melody of Lata Mungeshkar, folk-lore of Ila Arun or the Indi-pop of Daler Mehndi, music has been the biggest binding force for all age groups and all times. Music has also helped in bringing India, Pakistan and Bangladesh on one stage, as was demonstrated in Oakland (California, USA) recently. Many in India may not go to bed without listening to Mehdi Hussan or Ghulam Ali of Pakistan. It was left to Runa Leila of Bangladesh to bring out the best of "Jhoole Lal". Reshma always remained a rage in India whenever she came from Pakistan and Nusrat Fateh Ali Khan produced one of his best albums in India. And, of course, melody queen Lata Mungeshkar is a household name not only in India but also in Pakistan and Bangladesh. The list goes on and on.... While we all love the living legends of today, let us also salute the singing stars of the vintage era, who were the pioneers to bring together and bind the people of all regions and religions with the magic of their melodies.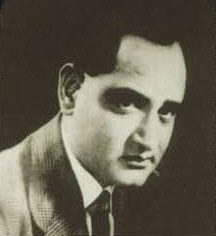 K. L. Saigal: Recognized as the greatest singer-actor of the last century, the musical genious became the first to bring music to the masses with his God-gifted voice. His unforgettable melodies continue to enthrall millions of listeners and have become a part of our heritage. Saigal became an overnight super star with the release of the first Devdas in 1935, not so much for his histrionics as for his soulful singing of "Balam Aan Baso Mere Man Main" and "Dukh Ke Din Ab Bitat Nahin". Followed hit movies after movies which became the musical hits for all times, and Saigal, who started his career in Calcutta, became a house-hold name in all corners of the country. The entire nation was spellbound by the haunting melodies: "Main Kya Janu Kya Jadoo Hai", "So Jaa Raajkumari, So Jaa"(Zindagi), "Dunia Rang Rangili Baba", "Main Man Ki Baat Bataun"(Dharti Mata), "Karun Kya Aas Niras Bhai"(Dushman), "Babul Mera Nayahar Chhooto Jaye"(Street Singer), "Ek Bangla Bane Nyara", "Ek Raaja Ka Beta Leke"(Badi Behen), "Prem Nagar Mein Rahane Wala"(Chandidas), "Aye Katibe Taqdir Mujhe Itna Batade"(My Sister) and so on. On persistant demand and irresistible offers of producers, Saigal moved to Bombay in the year 1941. He sang some of his greatest numbers from films produced here:"Rein Gayee Ab Hua Basera", Nainheen Ko Rah Dikha Prabhu", "Madhukar Shyam Hamare Chor", "Maiya Mori Mein Nahi Makhan Khayo"(Bhakt Surdas), "Diya Jalao"(Tansen), "Toot Gaye Sab Sapne Mere"(Parwana), "Gam Diye Mustakil", "Chaha Barbad Karegi" and his last soul-stirring song from Shahjehan, "Jab Dil Hi Toot Gaya, Hum Ji Ke Kya Karenge", before he breathed his last in 1947 at the age of 43.
Surendra: Bombay, although the movie capital of India, was left behind at the Box Office by Calcutta film makers because the former had no singer to match Saigal's mass appeal. The directors here were desparately looking for a singer to play a lead in their movies when Surendranath, B.A.LL.B, landed in Bombay to start his practice in law-courts, but, as destiny would have it, was picked up by producer-director Mehboob Khan from a party where he was singing some of Saigal's songs . Surendra, as he was credited by Mehboob in his movies, became a part and parcel of Mehboob's Sagar Movietone, after his very first song, "Birha Ki Aag Lagi More Man Mein"(Deccan Queen) became an instant hit. Since the song was inspired by Saigal's hit song, "Balam Aye Baso More Man Mein", Surendra became to be known as Bombay's Saigal. However, when "Tumhi Ne Mujh Ko Prem Sikhaya"(Manmohan), from his second movie with Mehboob, became hugely popular with the masses, Surendra made his place for himself as a very talented singer-actor, independent of the Saigal tag. Then followed Surendra's hit musicals, Jagirdar, Gramophone Singer, Jiwan Sathi, Alibaba, Aurat, Gharib, Jawani etc. and Bombay was on top of the Box Office charts, the place it had been missing for want of a singing talent. Surendra's peak time of a popular singing star continued into the 40s when two of his movies became the greatest musicals of that time. "Bhartrihari", a mythological with music by Khemchandra Prakash, and Mehboob's alltime musical hit, "Anmol Ghadi", with music by the maestro Naushad. "Bhiksha De De Maiya Pingla' from film "Bharthari" is still played, after 60 years of its rendering, wherever the classic play on the life of the king-turned-saint is staged every year during the festival season. The duet from "Anmol Ghadi", "Aawaz De Kahan Hei" has immortalized both Surendra and Noorjehan as the most popular singing pair in movies. After the Partition when Noorjehan moved to Pakistan, the popular pair of Lal Haveli and Anmol Ghadi never got another chance to sing and act together. Surendra did sing some solos in movies thereafter, including the haunting melody, "Teri Yad Ka Dipak Jalta Hei"(Paigam), but eventually switched over to character-actor roles which he continued to play till his death in 1987.
Noorjehan: The musical diva of the 1940s, she was given the title of the Melody Queen much before Lata Mungeshkar came to be known by the same title. In fact, Lata Mungeshkar's early singing style was inspired by Noorjehan. Starting the career in Lahore, she mesmerized the masses with her very first film Khandaan and the instant hit, "Tu Kaun Si Badli Mei Mere Chand Hei Aaja". Producers in Bombay raced to capture the prize catch, and soon the singing star conquered India's film capital with her vibrant voice. Hit followed hit: Dharti, Nauker, Nadaan, Dost, Badi Maa, Village Girl. With the Zeenat quawali, "Aanhien Na Bhari, Shikwe Na Kiye" she reached her peak popularity. Then followed her two greatest hits, Lal Haveli and Anmol Ghadi, both co-starring Surendra, with whom she delivered the all time hit duet, "Aawaz De Kahan Hai", besides her ever popular numbers, "Jawan Hai Muhabbat", "Mere Bachpan Ke Saathi", "Kya Mil Gaya Bhagwan" and "Aaja Meri Barbad Mohabbat Ke Sahare". That was in 1946, an year before she migrated to Pakistan, when the masses were still humming her last hit in India, "Yahan Badla Wafa Ka Bewafayee Ke Siva Kya Hai"(Jugnu). She continued to sing great songs to become the Pride of Pakistan and retained her title of Mlika-e-Tarannum till her death in December of 2000.
Suraiya: As Noorjehan was the queen of melody, Suraiya was the peoples' choice as the most popular singing star. She generated hysteria amongst the masses that no other singing star, not even Saigal, could generate. The young and the old, the man in the street or at work, they all enjoyed singing to Suraiya's tunes, so captivating and easy to copy. "O Door Janewale", "Woh Pas Rahen Ya Door Rahen", "O Likhnewale Ne Likh Di", "Bigdi Banane Wale", "Murliwale Murli Baja", "Tu Mera Chand Mein Teri Chandni" and many more were hummed in every nook and corner of the country. Every one started believing in their natural talent for singing. Although much younger to Saigal in age, she was given the lead against the legendary singer in Tadbir(1945), Omar Khayyam(1946) and Parwana(1947), that was known more for her hit, "Jab Tumhi Nahin Apne", than for any of the songs Saigal sang in the movie. She was part of the casting coup, along with Noorjehan and Surendra, when Mehboob made his all time musical hit Anmol Ghadi in which she matched her singing talent with the other two great singing stars- "Socha Tha Kya Kya Ho Gaya". Suraiya was still on her peak in the 50s when her contemperory singing stars had moved to Pakistan(Noorjehan and Khursheed) or swithed over to charecter-acting(Surendra) or passed away(Saigal). She too retired from films after giving her greatest hit "Mirza Ghalib" and the great hits "Dile Nadan Tujhe Hua Kya Hei" and "Yeh Na Thi Hamari Kismat". This prompted Pundit Nehru to pay her the ultimate compliment by telling her that she had brought Mirza Ghalib to life-"Tumne Mirza Ghalib ki ruh ko zinda kar diya!" Suraiya preferred to lead a very private life after winning laurels for her last film and passed away in January 2004 after a brief illness.
Khursheed: The first of the singing stars, she started her career in 1931, the year when India's first talkie film Alamara was released. She was the only singing actress in the 30s, who captivated the hearts of million with her melodious singing of the immortal songs: "Mohabbat Mei Sara Jahan Jal Raha Hei"(Shahashah Babar), Pahle Jo Mohabbat Mei Inkar Kiya Hota"(Pardesi), "Mori Ataria Hei Sooni"(Beti), "Ghir Ghir Aye Bidaria"(Shaadi), "Jo Ham Pe Guzarti Hei"(Mumtaz Mahal) and many more. Her best period came in the 40s when she was selected to play steller role with the legendary K.L.Saigal in Bhakt Surdas and Tansen. Matching her melodious voice to the one and only one, Saigal, she sang some of her greatest hits in these two movies: "Panchi Bawra Chand Se Preet Lagai", "Madhur Madhur Ga Re Manwa", "Chandni Raat Aur Tare Khile Hein", Ghata Ghanghor Ghor", "Mere Bachpan Ke Saathi" and "Barso Re". Khursheed migrated to Pakistan after the Partition where she eventually faded away from her glorious career in films. She died in April 2001 at the age of 87.
The era of the singing stars practically ended with the Partion in 1947 when two of the three finest female singers, Noorjehan and Khursheed, opted to settle down in Pakistan, and the greatest singer of all times, K.L.Saigal, passed away the same year. Their memory may have faded out of many a minds, and even their existance may not be known to the new generations, but what no one can take away is their contribution to Bollywood's melodious magic, especially to the golden age of film music of the 50s and 60s, that was inspired by the great singing stars of the 30s and 40s. Here is a salute to the singing stars of yester years.