Superstars of Hindi Cinema (Female)
Bollywood is basically a hero oriented industry. Male leads would often see that their female co-stars got less footage, less meaty roles, less publicity, that they do not turn scene stealers. Nevertheless, some of the most memorable films have been those that were women-centric. These films have given some great female stars who commanded an equal position with the male leads and also no less a superstar status. Here is my tribute to the female superstars of Hindi cinema.
1930s and 40s
Devika Rani: First Lady of the Indian Cinema and an acknowledged beauty, Devika Rani goes down in the annals of Hindi films as actor par excellence. In 1920s, when she was in London to study architecture, she met Himansu Rai, the founder of Bombay Talkies. He offered her to design sets of Light of Asia (1925) and they came back together to complete the project. Romantically attracted to each other, they soon got married and Devika Rani was now not only the head at Bombay Talkies but also the female lead in the initial movies. Karma (1933) gave her instant fame and rave reviews for her performance. She made a very successful team with Ashok Kumar - Jeevan Naiya, Janma Bhoomi, Achut Kanya, Izzat, Savitri and Anjaan. After untimely demise of Himansu Rai in 1940, she took over the reins of Bombay Talkies. Amongst her discoveries at Bombay Talkies was Dilip Kumar. For her contributions to Indian Cinema, Devika Rani was the first recipient of the prestigious Dada Sahib Phalke Award in 1970. After Himansu Rai's death she married the famous Russian painter Svetoslav Roerich and stayed in their estate in Bangalore till her death in 1994.
Naseem Banu: Daughter of the legendary playback singer Shamshad Begum, Naseem was one of the most beautiful figures to grace the Indian screen. She was the Beauty Queen of her time and a superstar of her days. Starting her career in Khoon Ka Khoon (1935), she was an overnight sensation on release of Sohrab Modi's all time classic, Pukar (1939). Her song in the movie 'Zindagi ka saaz bhi kya saaz hai, baj raha hai aur beawaz hai' was a big hit. Her other hit movies include Talaaq, Ujala, Begam, Jeevan Sapna, Anokhi Ada, Chandani Raat and Sheesh Mahal. She retired in the mid-50s so that she would groom her daughter Saira Banu for an acting career.
Durga Khote: A strong woman, Durga Khote had a glorious career that spanned 50 years, which included acting, production and direction. She later diversified into short films, ad films and documentaries with considerable success for over 25 years. Starting her career in Ayodhecha Raja (1932) she acted in over 200 films. Her powerful performance in Amar Jyoti (1937) made her an overnight star who was thereafter sought for woman-centric films, especially historicals. Her major films include Rajrani Meera, Nand Kumar, Adhuri Kahani, Maya Machindra, Patit Pawan, Jeevan Natak, Inquilab, Saathi, Narsi Bhagat, Geeta, Vijay, Bharat Milap, Prithvi Vallabh, Mahatma Vidur, Pannadai, Mirza Ghalib and Mughal-E-Azam.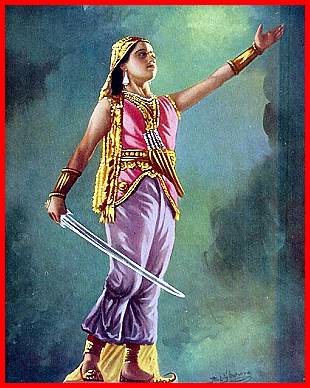 Shanta Apte: Whanever films about strong women are discussed, V. Shantaram's Dunia Na Mane (1937) tops the list. In the film, Nirmala, an orphan girl is given in marriage to an old rich widower. She revolts and refuses to consummate the union with her husband. Shanta Apte played perfect Nirmala. This was her third most memorable performance in a row - the earlier two being in Shantaram's classics, Amrit Manthan (1934) and Amar Jyoti (1936). Shanta Apte's other great movies include Zamindar, Apna Ghar, Mohabbat, Duhai and Subhadra. She was also a great singer of her time, who sang her own songs in films.
Shobhana Samarth: Contrary to today's rules where actresses are considered stale once they get married, Shobhana Samarth's film career only began after her marriage. Best known for her portrayal of Sita in Ram Rajya, she became the eternal Sita in the audiences' minds. Her major films include Do Diwane (1936), Apni Nagaria (1940), Bharat Milap (1942), Ram Rajya (1943), Nauker (1943), Taramati (1945), Sati Taral (1947). In 1950 she produced Hamari Beti to launch her daughter Nutan.
Noorjehan: Diva of the 1940s, Noorjehan started her film career in Gul-Bakavali (1939), but it was Khandaan (1942), a big hit, that made her an overnight star. Her song, Tu Kaun Si Badli Mein Mere Chand Hei Aaja, was a sensational hit. The people lapped up the combination of good voice, beautiful looks and the great acting talent. They thronged the theatres in thousands and applauded her every song sequence on the screen. Most of her movies became big hits - Duhai, Nauker, Nadaan, Dost, Badi Maa, Village Girl and Lal Haveli. In Zeenat she popularized the qawali as never before - Aahein Na Bhari Shikwe Na Kiye was sung everywhere, in schools and on the streets. She reached her peak with Mehboob Khan's Anmol Ghadi (1946) and Jugnu with Dilip Kumar. She migrated to Pakistan in 1947.
Khursheed: The first of the singing stars, she started her career in 1931, the year when India's first talkie film Alamara was released. She was the only singing superstar in the 30s, who captivated the hearts of million with her melodious singing of the immortal songs: "Mohabbat Mei Sara Jahan Jal Raha Hei"(Shahashah Babar), Pahle Jo Mohabbat Mei Inkar Kiya Hota"(Pardesi), "Mori Ataria Hei Sooni"(Beti), "Ghir Ghir Aye Bidaria"(Shaadi), "Jo Ham Pe Guzarti Hei"(Mumtaz Mahal) and many more. Her best period came in the 40s when she was selected to play steller role with the legendary K.L.Saigal in Bhakt Surdas and Tansen. Matching her melodious voice to Saigal, she sang some of her greatest hits in these two movies. Khursheed migrated to Pakistan after the Partition.
Suraiya: As Noorjehan was the queen of melody, Suraiya was the peoples' choice as the most popular singing superstar. She generated hysteria amongst the masses that no other star could generate. The young and the old, the man in the street or at work, they all enjoyed singing to Suraiya's tunes, so captivating and easy to copy. "O Door Janewale", "Woh Pas Rahen Ya Door Rahen", "O Likhnewale Ne Likh Di", "Bigdi Banane Wale", "Murliwale Murli Baja", "Tu Mera Chand Mein Teri Chandni" and many more were hummed in every nook and corner of the country. Suraiya was still at her peak when she retired from films after giving her greatest hit Mirza Ghalib.
1950s and 60s
Madhubala: The most beautiful star of Hindi cinema, she was brilliant in both, comedy as well as in high dramatic performance. While she matched Kishore Kumar step by step in his madcap antics in Chalti Ka Naam Gadi, her performance as the doomed courtesan Anarkali in Mughal-E-Azam equalled that of Dilip Kumar as Prince Salim. Madhubala began her Bollywood life in Kidar Sharma's Neel Kamal (1947) opposite Raj Kapoor and became a superstar in Mahal (1949), a super super suspence thriller. A spate of hits followed - Amar, Howrah Bridge, Kala Paani, Phagun, Passport, Half Ticket and Sharabi. Madhubala's memorable career in Hindi films was cut short by her untimely death.
Nargis: One of the greatest Indian actresses, Nargis started her Bollywood journey with a break by the ace director Mehboob in Taqdeer (1943), but real stardom came her way with Mehboob's Andaaz and Raj Kapoor's Barsaat. Both movies were mega hits. Nargis played the lead in a spate of super hits opposite Dilip Kumar - Mela, Jogan, Babul and Deedar. After Awaara (1951) she worked exclusively with Raj Kapoor - Aah, Anhonee, Ashiana, Bewafa, Shri 420, Chori Chori and Jagte Raho. Her magnum opus Mother India (1957) represents the pinnacle of her career and won her the Best Actress award at the prestigious Karlovy Vary Festival. Nargis was the first film personality to be awarded Padmashree.
Meena Kumari: She was one of the most beloved actresses of Bollywood. She took performance to new heights with her classic contributions including Parineeta, Baiju Bawra, Sahib Bibi Aur Ghulam, Daera, Ek Hi Raasta, Sharda, Dil Apna Aur Preet Parai, Dil Ek Mandir, Aarti, Kajal, Phool Aur Pathar and Pakeeza. She also excelled in light hearted roles - Azaad, Miss Mary, Shararat and Kohinoor. She won Filmfare awards for Best Actress in Baiju Bawra (1952), Parineeta (1953) and Sahib Bibi Ghulam (1962) and made history in 1962 by bagging three Best Actress nominations - Aarti, Main Chup Rahungi and Sahib Bibi Ghulam. She was called the Tragedy Queen for playing the suffering woman to perfection.
Vijayantimala: The first South Indian actress who made it big in Bollywood, Vijayantimala's greatest legacy to Indian cinema is that it has become a must for any inspiring actress to be an accomplished dancer. She started her career in Hindi films with Bahar (1951), a big hit, primarily because of her dance numbers. In Devdas (1955) she played dancing girl Chandramukhi and won Filmfare award for Best Supporting Actress. Naya Daur (1957), a mega hit, made her the most sought after star. Bimal Roy's Madhumati (1958), shot her to the highest echelons of stardom. She won Filmfare awards for Best Actress in Sadhna (1958), Ganga Jamuna (1961) and Sangam (1964). After her last big hit, Jewel Thief (1967), she retired from films.
Waheeda Rehman: Another great dancer from South Indian films, Waheeda Rehman was spotted by Guru Dutt in a Telgu film and brought to Bombay to work in his production, C.I.D. (1956). The film was a big hit but her role of a vamp was not that big. The real srardom was offered to her on a platter in Guru Dutt's masterpiece Pyaasa (1957), followed by two more classics from Guru Dutt, Kaagaz Ke Phool (1959) and Sahib Bibi Aur Ghulam (1962). Her hit movies include Chowdhavin Ka Chand, Kala Bazaar, Bees Saal Baad, Mujhe Jeene Do, Kohra and Ram Aur Shyam. With Guide (1965) she reached the peak of her career, playing the difficult role of a desparate housewife.
Nutan: Launched in Hamari Beti (1950) by mother Shobhana Samarth, Nutan's major breakthrough as an actress par excellence came with Seema (1955), which won her Filmfare Best Actress Award. Whether it was the light hearted Paying Guest (1957) or Bimal Rai's intense Sujata (1959), brought out the best in her. She continued with her bright career with Tere Ghar Ke Samne, Anadi, Chhalia, Milan, Khandaan, Sarswatichandra, Saudagar, Sajan Bina Suhagan and Main Tulsi Tere Aangan Ki. Her greatest performance was in Bimal Roy's Bandini (1963). She won record-breaking 5 Filmfare awards for Best Actress - Seema (1957), Sujata (1960), Bandini (1964), Milan (1969) and Main Tulsi Tere Aangan Ki (1979).
1970s and 80s
Sharmila Tagore: She won a timultuous welcome to Hindi cinema when she appeared with her glorious dimples and sassy smile in the romantic comedy Kashmir Ki Kali (1964) opposite Shammi Kapoor. With Evening in Paris (1967), she went on to become one of the hottest and most glamorous actresses. She won Filmfare Best Actress Award for Aradhna (1970) and National Award for Mausam (1975). Her other great movies include Anupama, Waqt, Chupke Chupke, Satyakam, Khushboo, Griha Pravesh, Namkeen, Desh Premi and Mississipi Masala.
Rakhee: One look at Rakhee and you are immediately drawn to her gaze. There you find the fire as well as melancholy, depending on her mood of the moment. In Sharmeelee (1971), her debut film, the cameraman devoted half an hour to her close-ups. She is truly a photographer's dream. She has a long list of super hits, to her very successful career spanning 30 years in the industry - Reshma Aur Shera, Lal Pathar, Be-Iman, Heera Panna, Daag, Black Mail, Banarsi Babu, Joshila, Angarey, Tapasya, Kabhi Kabhie, Muqaddar Ka Sikandar, Jurmana, Kala Pathar, Lootmaar, Shaan, Laawaris, Shradhanjali, Bemisal and more. She won Filmfare Best Actress Award for Tapasya (1976), Best Supporting Actress Award for Daag (1976) and Ram Lakhan (1989).
Hema Malini: She entered Bollywood as the 'Dream Girl' of Raj Kapoor in Sapnon Ka Saudagar (1968), but became dream girl of multitude of movie goers with Johnny Mera Naam, the mega hit of 1970. Then came Seeta Aur Geeta (1972) and she was the top female star, winning the Filmfare Best Actrss Award for the film. Her stocks went high with a string of hits opposite Dharmendra - Raja Jani, Jugnu, Solay, Pratigya, Phandebaaz, Dream Girl, Dillagi, Charas, Azaad, Aas Paas, Andha Kanoon etc. Gulzar brought to limelight Hema's histrionics excellence in Khushboo (1975), Kinara (1977) and Meera (1979). Hema Malini has the distinction of bagging Filmfare Best Actress Award even for her comeback film Baghban, more than 30 years after she won her first award. She was awarded Padma Bhushan in 1999.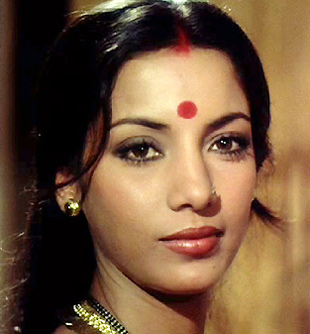 Shabana Azmi: One of the greatest actresses of our time, leading light of the Indian New Wave cinema, she dominated the films of the 'parallel cinema' in 1970s and 80s made by India's famous arthouse directors Shyam Benegal, Satyajit Ray, Mrinal Sen, Aparna Sen and others. Her most memorable movies include Ankur, Nishant, Junoon, Atithi, Sparsh, Mandi. Madam Sousatzka, City of Joy, Fire, Earth and Morning Raaga, besides the Filmfare Best Actress Award winning films Swami, Arth and Bhavna.
Rekha: Superstar of South India, Gemini Ganeshan's daughter Rekha entered Bollywood with a bang, with her first film Sawan Bhadon (1970) becoming a super hit. Her most memorable movie is Umrao Jaan in which she played the role of the poet-cum-court dancer with the charm that captivated the audience as never before. She won the National Award for the film. Her big hits include - Mr. Natwarlal, Khoon Psina, Muqaddar Ka Sikandar, Namak Haram, Suhag, Ram Balram, Kasme Vaade, Do Anjaane, Alaap. Khoobsoorat and Khoon Bhari Maang won her Filmfare Best Actress Awards. She also won Best Supprting Actress Award for Khiladion Ke Khiladi (1998). The icon of beauty and glamor in Bollywood, she credits Yoga and balanced diet as the secret of her ageless face and figure.
Sridevi: Stunning beauty and an accomplished dancer, Sridevi came to capture Bollywood in the 80s, after conquoring the South Indian cinema. In fact, she is the only actress to have attained superstar status in Hindi cinema and the South Indian regional cinema at the same time. Dance has always been Sridevi's forte in all her films. Her dance number in the mega hit Chandni - Mere Hathon Mei Nau Nau Churiyan - made the dance mendatory at every marriage in any nook and corner of the country. Childlike, spontaneous and comic, she excelled in the art of slapstick and physical comedy - Mr. India (1987) and Chalbaaz (1989). She won Filmfare Best Actress Award for Chalbaaz and Lamhe and nominations for Sadma, Chandni, Khuda Gwah, Gumrah, Laadla and Judaai. She is now more active as producer than as an actress.
1990s and onwards
Madhuri Dixit: N. Chandra's Tezaab (1988) - Ek Do Teen Char - took the nation by storm and celebrated Golden Jubilee. The sensational newcomer, Madhuri Dixit, who performed the super hit song-cum-dance number, became a superstar overnight. The Ek Do Teen girl, as she came to be known, gave another stunning performance in Dil (1990) and Madhuri was now the most sought after star. An ultimate beauty and a wonderful dancer, she has achieved milestones in her career with her flawless performance, winning Filmfare Best Actress Awards for Dil (1991), Beta (1993), Hum Aapke Hain Kaun (1995), Dil To Pagal Hai (1998) and Best Actress - supporting role for Devdas (2003). She also got nominated for Best Actress for her Tezaab, Prem Pratigya, Saajan, Khal Nayak, Yaraana, Pukar and Lajja. Madhuri moved to USA after her marriage to an NRI doctor in Los Angeles, and with this concludes the list of superstars of the last Century.
The new Millenneum opens with some of the most beautiful actresses, many of them Beauty Queens, who are emerging as superstars, with their awards- winning talent and some very successful films to be proud of :
Aishwarya Rai: Miss World 1994, she is the first Indian actress to be on the jury of the Cannes International Film Festival. She won Filmfare Best Actress Awards for Devdas and Hum Dil De Chuke Sanam. She looks forward Umrao Jaan and important foreign assignments under negotiation.
Kajol: Considered the best on-screen pair with Shah Rukh Khan (Baazigar, Karan Arjun, Dilwale Dulhania Le Jayenge, Kuch Kuch Hota Hai and Kabhi Khush Kabhi Gham), she won Filmfare Best Actress Awards for Dilwale Dulhania Le Jayenge and Kabhi Khushi Kabhi Gham.
Rani Mukherjee: Treasure house of talent, she is considered as the reigning queen of Bollywood with big recent hits to back her for the position - Hum Tum, Veer-Zaara, Black and Bunty Aur Babli. Her other hits include Kuch Kuch Hota Hai, Ghulam, Sathiya and Chalte Chalte. She won Filmfare Best Actress Award for Hum Tum.
Priyanka Chopra: Miss World 2000, winner of the Filmfare Best Debut Award for Andaaz (2003) and for the Best Actress-negative role for Aitraaz (2004), she has a string of successful films recently - Mujh Se Shadi Karoge, Waqt, Barsaat and Bluffmaster. All eyes are on her forthcoming films Krrish and Don.
Preity Zinta: Winner of Filmfare Best New Comer Award for Dil Se (1998), Best Debut Award for Soldier and Best Actress Award for Kal Ho Na Ho (2003), she is on rise with recent hits Veer Zaara and Salaam Namaste, besides the super hit Koi Mil Gaya.
Kareena Kapoor: She is the winner of Filmfare Awards for Best Female Debut (Refugee), Special Award (Chameli) and Best Actress Award (Dev). Her other successful films include Kabhi Khushi Kabhi Gham, Yuva, Ajnabi, Aitraaz, Hulchul, Bewafa and Dosti. She is looking forward to Milenge Milenge, Don and 36 China Town.
In an effort to pay sincere tributes to all the great artistes, I might have missed some inadvertantly. However, the great performance of these actors is never underrated. Their glorious and shining artistry par excellence has made Indian cinema unparalleled.